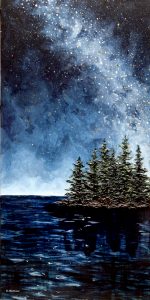 Northeast Harbor Library will be displaying the artwork of Kaitlyn Metcalf in the Mellon Room for the month of July. The exhibit will be on display from July 1st through 31st with a reception planned on July 19th at 5:00 pm. This exhibit will feature paintings from her new Celestial Series, as well as pieces from her Century One: Acadia and Mixed Media series.
Kaitlyn's textural, rich paintings typically depict scenes of Maine's iconic coastal landscape.  The Celestial Series paintings are a departure from land and focus on illustrating the night sky from Maine and abroad.  The paintings are created in acrylic and embellished with gold leaf and glass beads. Being from New Orleans, Metcalf is continually fascinated with the night sky and the magical experience it offers.  It is her hope to impart a bit of enchantment to the viewer and remind them to always "look up".
Kaitlyn Metcalf was born and raised in New Orleans, Louisiana. She was raised on crawfish, po-boys, Bloody Mary's, Jazz Fest and Mardi Gras. Kaitlyn was fortunate enough to be able to simultaneously attend Mount Carmel Academy and the New Orleans Center for Creative Arts, two of the best secondary schools in the city. After high school, this Southern Belle ventured north to further her art education, where she attended Maine College of Art in Portland. Kaitlyn graduated with Honors with a Bachelors of Fine Arts degree in Painting and a minor in Art History. She currently lives and works in Trenton, Maine.
The exhibit will be up at the Northeast Harbor library for the entirety of July. All are welcome to the mid show reception, held at the library on July 19th  at 5:00 pm.  Our exhibit room is occasionally booked for private use, please call the library at 207 276 3333 to inquire about availability if you are making a special trip to see the show!
To contact Kaitlyn with questions or to inquire about commissioned work:
 207.479.4858
[Pictured: Starlight Island, Kaitlyn Metcalf, 2019]