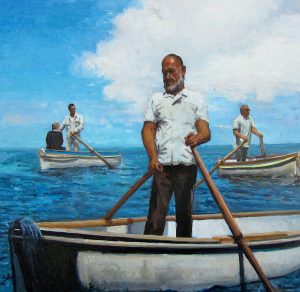 This past May, Judy Taylor took 10 of her art students to sketch, tour and study in Southern Sicily, from volcanoes to ancient Greek Ruins, hillside towns to stunning seaside villages.
Judy and her students are exhibiting work in the Mellon Room throughout the entire month of October. The work on display encompasses both depictions of Italy and other work.
The Mellon Room is sometimes reserved for private use; if you are making a special trip to see the exhibit, please call ahead or check our website for availability of that space.
PICTURED: The Grotto Boatman of Capri, Judy Taylor, Oil on Linen]