The Northeast Harbor Library will open an exhibit featuring Bar Harbor artist France Hilbert on view until November 30th.  The exhibition will feature 50 works by Hilbert, including from her Daily News series, as well as paintings, drawings, and sculpture.  There is a reception open to the public on Monday, November 13th, from 5 – 7 pm.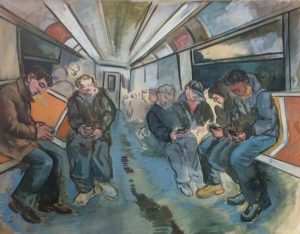 Hilbert's artistic education began at the age of seven, when her grandfather, the late artist, Jaro Hilbert taught her. From him, she received a thorough education in the classical tradition. She continued her formal studies at the Ecole Nationale Superieure des Beaux Arts de Paris, France; at The Academy of Art of The Newington Cropsey Foundation, Hastings on Hudson, NY; and at The Art Students League of New York.
Hilbert started her career in France principally as a painter. After traveling and working in Denmark, Germany, and Spain, she immigrated to the United States in 1996. She expanded into sculpture as her principal theatre of activity. Her interest is composition and movement. This can be seen in her Daily News series, her sculpture, her landscapes, and her new studies of Bar Harbor fishermen. Of her many public and private commissions, some are permanent installations. "Talma," a 7-foot bronze sculpture is installed in the public square of the Theatre of the Valley of L'Verres, in Brunoy, France. A pair of 4-foot bronze relief sculptures entitled "The Calling," are installed at the Georgetown University Medical School building in Washington, D.C. Since moving to Bar Harbor in 2015, she has enjoyed exploring the landscape and local scene.
The work displayed shows Hilbert's studies from the Louvre and Metropolitan Museum that inspire her sculpture, Daily News, her water color journal from living in New York, recent Mount Desert Island landscapes, and drawings from her new studies of Bar Harbor fishermen.
This exhibit is presented in collaboration with Art in Public Spaces, LLC.
The exhibit is available to view during the library's operating hours. The room is sometimes reserved for private use, to be certain that the exhibit is open please call ahead at 207 276 3333.