This March we join the Southwest Harbor Public Library, the Bass Harbor Memorial Library, and the Jesup Memorial Library in celebrating Women's History Month with exhibits and programs relating to women's history.
Our exhibit features wo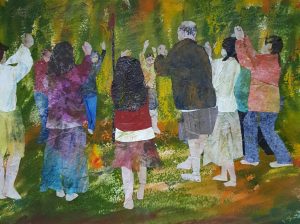 rk from local women. There are paintings, textiles art, poems, photographs, and other multi-media work.
This year's themes is "Creating Connections:" Generation to generation, neighbor to neighbor, or island to island, women have woven much of the fabric that creates connections and communities. How did they accomplish this historically? How does this happen today in our Mt. Desert Island community? In what ways are you a creator and keeper of the connections?"