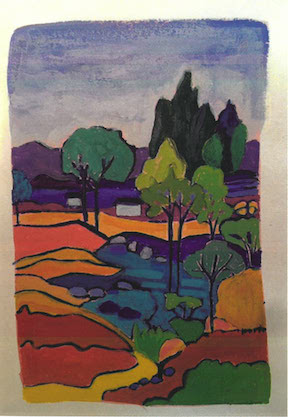 This October the library will feature Carol Shutt: Recent Works, an exhibit of the recent paintings, drawings, collages, and mixed media art by Carol Shutt. The exhibit will open with a reception on the 2nd of October from 4:00 until 6:00 pm. At 5:00 pm, during the reception, the artist will share a slide show and talk about the visual themes in her work as well as share original poetry and phrases.
Carol Shutt graduated from Syracuse University in 1975, with a degree in Fine Arts. She worked at the Works gallery in Philadelphia for several years, before moving to Maine in 1979. Building on her fine arts experience with the gallery, Carol made and sold contemporary quilts for twelve years. In 1991 she accepted the position of K-8 art teacher at Mt. Desert Elementary School and has now begun teaching the children of her earlier students. Her creative experiences in the classroom have shaped Carol into the artist she is today; her artistic and enthusiastic students are her inspiration and have taught her as much as she's taught them. Carol uses a variety of techniques and materials to pursue themes and ideas that interest her in her art. She is particularly inspired by the vibrant colors and light of the Maine landscape. Her travels around the world have also produced a body of more personal work of paintings, drawings, collages, journals, and altered postcards. She has been to Portugal, England, and most recently Paris and Brittany, France. Carol received the Astor grant in 2015 for travel to France to learn more about the life and work of Paul Gauguin. Her trip, "Finding Gauguin's Colors," took her to the museums of Paris, the villages of Brittany, and the ports of Pouldu – the playgrounds for Gauguin and his contemporaries. She explored the landscapes and culture that inspired Gauguin, focusing on the colors in his work and the works of his contemporaries and those he has inspired. Her study of Gauguin and his art has been a great influence on her own art-making. Also while in Brittany, she gleaned phrases and words and has been creating poems from this language found along her travels.
Recently, Carol has been writing and art-making through a process related to Exquisite Corpse practices of the French Surrealists of the 1930s. Through daily practice she feeds her love of both the visual and written word, while tapping into dreams, personal narratives, and the subconscious. Her work will be exhibited at the library for the entirety of October.