May: Young Adult Fiction Pick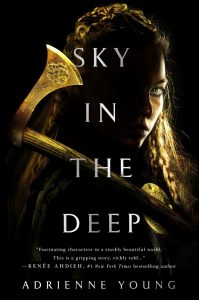 Seventeen-year-old Eelyn's world is war. Raised to fight alongside her Aska clansmen in a generations-old blood feud against the Riki, her life is brutal but simple: fight and survive. Until the day she sees the impossible on the battlefield—her brother, fighting with the enemy—the brother she watched die five years ago.
Faced with her brother's betrayal, she must survive the winter in the mountains with the Riki if she wants to make it back to the fjord after the thaw. After the village is raided by a ruthless clan many believe to be a myth, Eelyn is given no choice but to trust the Riki and a young man named Fiske, in particular. Together, they must end the blood feud between their clans or watch their people be slaughtered.
Companion novel – The Girl the Sea Gave Back – coming this summer!
Also for fans of the Mad Wolf's Daughter.
Kate