January: Juvenile Nonfiction Pick
This picture book tells the story of a Coast Guard helicopter crew rescuing the crew of a sailboat caught in the storm.  Simple text and action packed pictures are sure to be a big hit with kids interested in machines, survival and adventure. – Robin
A thirty-foot yacht,
adrift well out to sea,
sends, "MAYDAY! MAYDAY!
Please respond to our plea!"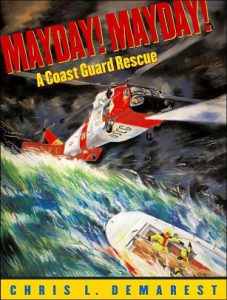 Hearing this call for help, the United States Coast Guard leaps into action. A team of four highly trained rescue specialists head out in an H-60 Jayhawk helicopter. Battling fierce conditions, the Coast Guard team finally locates the disabled boat, rescues the crew, treats injured passengers, and carries them back to safety.
Complemented by dramatic, striking illustrations, Chris L. Demarest's text brings into vivid focus one of the many important jobs performed by the U.S. Coast Guard. A detailed author's note provides additional information about the search-and-rescue process, making this a terrific book for any school or home library.