December: Fiction Pick
The newest in the series of mysteries featuring the Laotian sleuth, Dr. Siri Paiboun.  This is a quirky mystery, being that the detective has a direct connection with the spirit world.  It's full of humor about the state of the world that has experienced Communism and other extreme bureaucracies.  This one made me laugh out loud.  Good humored characters, not the least bit naive.
– Judith
Dr. Siri Paiboun Series #12
The 1980 Olympic Games in Moscow is already rife with controversy, but when a Lao athlete is accused of murder, it escalates into a full blown international incident. In the twelfth entry to the series, Dr. Siri Paiboun and his quirky team of misfits are on the case in a city and country foreign to them, yet familiar in its corruption of justice.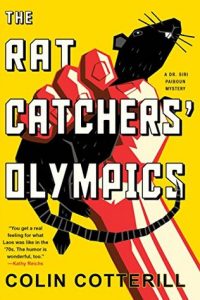 1980: The People's Democratic Republic of Laos is proud to be competing in its first-ever Olympics. Of course, half the world is boycotting the Moscow Summer Olympic Games to protest the Soviet Union's recent invasion of Afghanistan, but that has made room for athletes from countries that are usually too small or underfunded to be competitive—like Laos.
Ex-national coroner of Laos Dr. Siri Paiboun may be retired, but he and his wife, Madame Daeng, would do just about anything to have a chance to visit Moscow, so Siri finagles them a trip by getting them hired as medical advisers to the Olympians. Most of the athletes are young and innocent village people who have never worn running shoes, much less imagined anything as marvelous as the Moscow Olympic Village. As the competition heats up, however, Siri begins to suspect that one of the athletes is not who he says he is. Fearing a conspiracy, Siri and his friends investigate, liaising in secret with Inspector Phosy back home in Laos to see if the man might be an assassin. Siri's progress is derailed when a Lao Olympian is accused of murder. Now in the midst of a murky international incident, Dr. Siri must navigate not one but two paranoid government machines to make sure justice is done.