August: Young Adult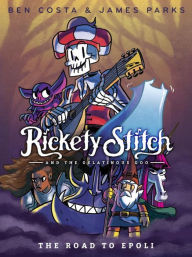 This comic for young adults will make you laugh!  Great dialogue and quirky characters keep this epic adventure moving. – Robin
Nimona meets Adventure Time as a singing skeleton searches for his origins in this full-color graphic novel series kickoff!
Meet Rickety Stitch . . . a walking, talking, singing skeleton minstrel. He's the one skeleton in the dungeon who seems to have retained his soul, and he has no idea why.
His only clue to his former identity is a song he hears snippets of in his dreams, an epic bard's tale about the Road to Epoli and the land of Eem.
His sidekick and sole friend is the gelatinous Goo, who Rickety alone can understand. Together they set out in search of Rickety's past, with abundant humor and danger galore.