July: Young Readers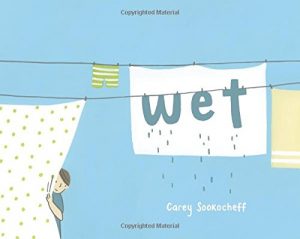 Wet, a great look at perspective text and illustrations, points out all the different ways to get wet, the good and bad! – Robin
Sometimes it's fun to get wet. And sometimes it's not.
This is a thoughtful exploration of the ways to get and be wet―from puddles and pools, to puppydog kisses. A boy describes how he gets wet at the swimming pool, at the playground, at home. Emotionally resonant and carefully observed, with a gentle bedtime ending, this is a poetic celebration of wetness―and childhood.
Perfect for fans of Deborah Underwood's The Quiet Book.