July: Juvenile NonFiction
This is a fun look at many careers which gives great facts and tips, skills guides, qualifications needed, career paths, related careers, sa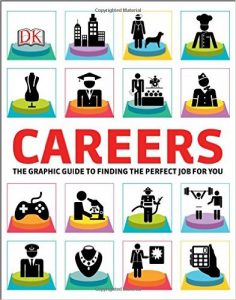 lary, lifestyle, and locations.  This broad spectrum overview is great for kids who feel like they have no idea what they are interested in or for those who want to know the basics of making a dream job an attainable career. – Robin
It's never too early for your teen or tween to start thinking about a career, and Careers is the perfect way to do it. Inspiring and imaginative as well as practical, Careers has charts and tables that help young people gauge interest about possible careers — it's like having a personal career advisor by your side whenever you need it!
Speech pathologist? Check. Zookeeper? Check. Jewelry designer? Check.
Nurse? Architect? Chef? Check, check, and check.
Covering more than 400 jobs, Careers is organized in an easy-to-navigate, clear structure that helps guide teen and tween readers. Check at-a-glance summary panels for chosen careers to learn about salary, working hours, training, and career paths. Cross-referenced job matrix tables offer another way to learn about all the options. Tweens and teens with no idea of what kind of job to look for can start with their favorite school subjects or hobbies and find relevant careers from there. It may not be time for your teen or tween to prepare a resume and find a job, but the advice in Careers can help young people start thinking about the future!
BONUS PICK!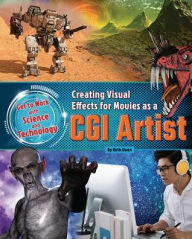 Creating Visual Effects for Movies as a CGI Artist
by Ruth Owen and Ian Failes
Using many favorite films from classics to more recent feats, this book talks about how computer-generated imagery has developed over time and all the steps and jobs involved in the process.  A neat source for kids interested in the field and full of kid friendly facts for any curious trivia collector. – Robin
A robot army marches through a city destroyed by aliens. A famous movie star morphs into a hideous fantasy creature. And a cute pink triceratops sets off on a big adventure with a blue T. rex.
Creating animations and incredible visual effects is all in a day's work for a CGI (computer-generated imagery) artist. Readers will discover how CGI artists use creativity, computer skills, and the latest technology to produce the characters, landscapes, and effects we love to see in movies and TV shows.
Told in a lively narrative style, this book includes firsthand accounts of how CGI effects are created, entertaining anecdotes, cool facts, and fascinating behind-the-scenes images. Readers will also get the chance to try their hand at being a CGI artist with fun projects and activities.