June: Young Readers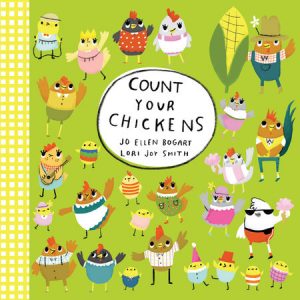 With engaging illustrations this counting book incorporates a counting challenge on each page.  On each page a unique group of adorable chickens engage in some hilarious scenes, practice counting and make some friends! – Robin
Chickens, chickens everywhere — going to the county fair!
Follow a family of chickens as they prepare for their big outing. You'll see chickens wondering what to wear, baking pies, painting their toes and knitting socks. A stroll through town reveals that everyone else is excited for the festivities too.
There are so many sights to see! Over there we see racers sprinting to the finish line. Over here, farmers showing off their best crops. Clowns, entertainers and musicians take the stage. And don't forget the rides: the Ferris wheel, super slide and merry-go-round. Grab some cotton candy and popcorn, because this very silly book will entertain and challenge young readers with searching and counting elements.