Throughout the month of December, the library will exhibit photographs by Lori Davis.  Due to the book sale, the exhibit will be unavailable the week of December 8.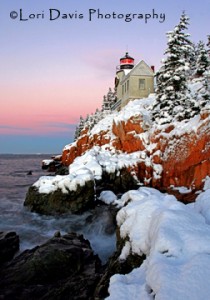 When she was only nine, Lori's family began their volunteer work as wildlife rehabilitators.  Realizing her wildlife interactions were unique, she felt the desire to document her experiences, not only as memories, but also as a way to share these amazing moments with others.  To do this, she picked up a camera, unaware at the time how much it would impact her life.
Lori's craft has taken her cross-county on a number of ventures, capturing spectacular landscapes and incredible wildlife interactions along the way.  Her chosen career is particularly rewarding.  Not only is she fortunate enough to live these extraordinary experiences first hand, but the opportunity also allows her to see the reactions of others as she returns with her images to share in galleries and at fine art shows.
Lori's collection includes images from Alaska, the Southwest, the Pacific Northwest, the Canadian Rockies, Florida and much of New England.  Located near Acadia National Park and Bar Harbor, Maine, Lori thrives in a photographers' paradise constantly adding new images to her collection.
Working out of her studio, she produces professional Giclée printed photographs of her images.  Her prints are available in a variety of sizes & price ranges, either matted, matted & framed or as handcrafted photo note cards.  Published both nationally and internationally, Lori now works full time as a self-employed, professional freelance photographer and is finally living her dream!
She hopes her images will inspire and educate her audience about the fragile natural world that surrounds us.  And also to remind them…  to slow down and enjoy the simple gifts that Mother Nature has provided…