"Fiber Arts in Hancock County" is an exhibit on display at the Northeast Harbor Library for the month of April.  There is an opening reception on Wednesday, April 9 from 4-6pm. In addition, the Wednesday Spinners will be spinning in the Mellon Room all day on April 9! Come and see their gorgeous work.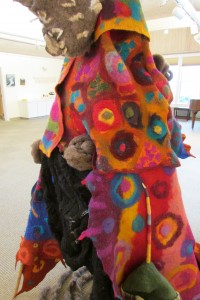 Twenty-five fiber artists from Brooklin and East Orland down to Franklin and Hancock, and out to Swan Island and Islesford are showing their work.  "We didn't turn anybody away," says Judith Blank, organizer of the exhibit.  Included are examples of knitting, several different types of weaving, resist dyeing, painting on cloth, pulp painting, paper making, woven wire, quilting, sewn dolls, hooking, tapestry, felting, collage, and more.  Maine is rich in quality fiber arts.  It's the best thing to do during the winter months, handling fiber.
There's a story behind each piece of work.  For example, the glimpse of wild turkeys with a purple sheen to their feathers on a bleak otherwise colorless February afternoon was the basis for Judith Blank's rag rug using old clothes gathered from the thrift store in Hull's Cove.  Marie Fenore gathers seaweed, bark, and other plants to make a slurry  that she uses to paint images of nature on cloth.  She calls it pulp painting, and she invented her technique by herself (after taking a papermaking workshop with Arlyss Becker, another exhibitor).  Hattie Clingerman's Easter Bonnet, a whimsical felted hat, is made with the fibers of animals she raised herself.  Suzanne Grosjean's wall hanging, Three Sheep, done in Peter Collingwood's shaft switching style, using entirely yarn she spun for the weft,  exploits the range of colors naturally occurring in fleece to make a bold statement.
These local fiber artists are people who know some things.  And who love to turn their pleasure of living in Maine into the work of their hands.  Come and enjoy.