December: Young Adult Fiction Pick
Kids must escape north Korea and save their father.  The author grew up in South Korea and now lives in Maine.  This is an adventure which also provides cultural insight. – Robin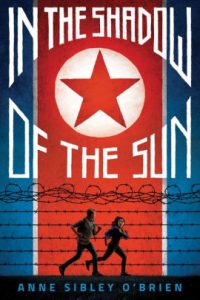 North Korea is known as the most repressive country on Earth, with a dictatorial leader, a starving population, and harsh punishment for rebellion.
Not the best place for a family vacation.
Yet that's exactly where Mia Andrews finds herself, on a tour with her aid-worker father and fractious older brother, Simon. Mia was adopted from South Korea as a baby, and the trip raises tough questions about where she really belongs. Then her dad is arrested for spying, just as forbidden photographs of North Korean slave-labor camps fall into Mia's hands. The only way to save Dad: get the pictures out of the country. Thus Mia and Simon set off on a harrowing journey to the border, without food, money, or shelter, in a land where anyone who sees them might turn them in, and getting caught could mean prison — or worse.
An exciting adventure that offers a rare glimpse into a compelling, complicated nation, In the Shadow of the Sun is an unforgettable novel of courage and survival.