November: Juvenile Fiction Pick
The Wizards of Once, by the author of the How to Train Your Dragon Series, is the magical adventure of a wizard boy and warrior girl, enemies who join forces to defeat a great evil.
– Robin
Check out this book trailer!
https://www.youtube.com/watch?v=A68AYuCr3PY
In the first book of a new series by the bestselling author of How to Train Your Dragon, the warring worl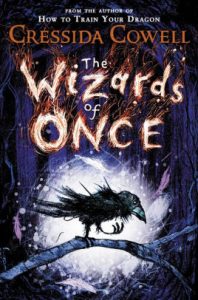 ds of Wizards and Warriors collide in a thrilling and enchanting adventure.
Once there were Wizards, who were Magic, and Warriors, who were not. But Xar, son of the King of Wizards, can't cast a single spell. And Wish, daughter of the Warrior Queen, has a banned magical object of her own. When they collide in the wildwood, on the trail of a deadly witch, it's the start of a grand adventure that just might change the fabric of their worlds.
With Cressida Cowell's trademark wit, and the same stunning combination of action, adventure, humor, heart, and incredible artwork that made How to Train Your Dragon a beloved bestselling franchise, The Wizards of Once will transport and enchant readers.