October: YA/J NonFiction Pick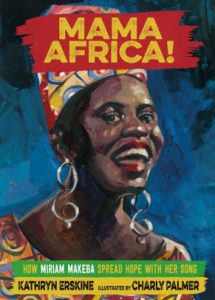 (J) Mama Africa! How Miriam Makeba Spread Hope with Her Song by Kathryn Erskine
Depicting singer Miriam Makeba and her part in the struggle to defeat apartheid in South Africa, this illustrated story will inspire and engage children as well as depict significant historic events. – Robin
Miriam Makeba, a Grammy Award–winning South African singer, rose to fame in the hearts of her people at the pinnacle of apartheid—a brutal system of segregation similar to American Jim Crow laws. Mama Africa, as they called her, raised her voice to help combat these injustices at jazz clubs in Johannesburg; in exile, at a rally beside Dr. Martin Luther King, Jr.; and before the United Nations.
Set defiantly in the present tense, this biography offers readers an intimate view of Makeba's fight for equality. Kathryn Erskine's call-and-response style text and Charly Palmer's bold illustrations come together in a raw, riveting duet of protest song and praise poem. A testament to how a single voice helped to shake up the world—and can continue to do so.
(J) Who was Lewis Carroll? By Pam Pollack
Get the ski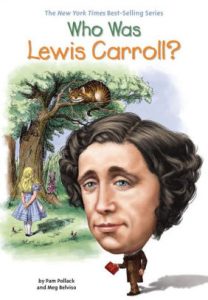 nny on the wonderfully creative author of Alice in Wonderland in this newest release in the popular and informative Who was? Series. – Robin
Meet the man who created Alice, the Mad Hatter, and Tweedle Dee and Tweedle Dum!
Lewis Carroll is the pen name of Charles L. Dodgson, a mathematician and church deacon, who taught at Oxford University. He was inspired to write his best known works, Alice's Adventures in Wonderland and Through the Looking Glass, by one of the Dean's daughters, Alice Liddell. The books were hugely successful and brought Carroll wide acclaim, especially for the nonsense poems "Jabberwocky" and The Hunting of the Snark.
Children and adults continue to be delighted by the fantasy of the Alice stories, which have been the basis of plays and movies since their publication in Victorian England during the 1860s and 1870s.
(YA) I will always Write Back: How One Letter Changed Two Lives by Caitlin Alifirenka
This true story shares the letters and the journey of a pair of pen pals, one a boy in Zimbabwe and one an American girl, and how their friendship changed their lives. – Robin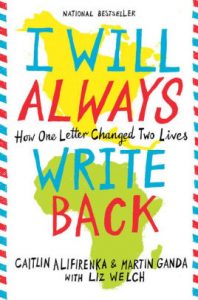 The true story of an all-American girl and a boy from Zimbabwe and the letter that changed both of their lives forever.
It started as an assignment. Everyone in Caitlin's class wrote to an unknown student somewhere in a distant place.
Martin was lucky to even receive a pen-pal letter. There were only ten letters, and fifty kids in his class. But he was the top student, so he got the first one.
That letter was the beginning of a correspondence that spanned six years and changed two lives.
In this compelling dual memoir, Caitlin and Martin recount how they became best friends –and better people–through their long-distance exchange. Their story will inspire you to look beyond your own life and wonder about the world at large and your place in it.