July: Fiction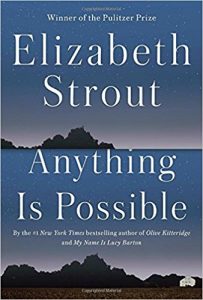 This is a collection of short stories, about interconnected persons, including Lucy Barton, who appeared in her previous book.  You don't have to have read My Name is Lucy Barton however to follow the text. This is as good as her best writing, in my opinion. There is a ring of truth to it.
– Judith
"As I was writing My Name Is Lucy Barton," Strout says, "it came to me that all the characters Lucy and her mother talked about had their own stories—of course!—and so the unfolding of their lives became tremendously important to me."
Here, among others, are the "Pretty Nicely Girls," now adults: One trades self-respect for a wealthy husband, the other finds in the pages of a book a kindred spirit who changes her life. Tommy, the janitor at the local high school, has his faith tested in an encounter with an emotionally isolated man he has come to help; a Vietnam veteran suffering from PTSD discovers unexpected solace in the company of a lonely innkeeper; and Lucy Barton's sister, Vicky, struggling with feelings of abandonment and jealousy, nonetheless comes to Lucy's aid, ratifying the deepest bonds of family.
With the stylistic brilliance and subtle power that distinguish the work of this great writer, Elizabeth Strout has created another transcendent work of fiction, with characters who will live in readers' imaginations long after the final page is turned.