Throughout the month of October, the library will exhibit work by Judy Taylor and Liz Cutler.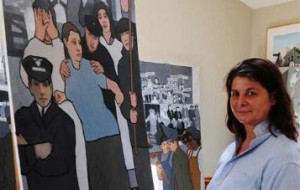 Judy's work consists of figurative and narrative paintings, labor-focused work, landscapes and portraiture. Her scenes of workers and nature found on the island often incorporate island residents as models. Prior to coming to Maine, she lived in New York City, transferring from there to Chicago to study figurative art. She was accepted in the New York Academy of Art on full scholarship and received her Masters certificate in their pilot program. She went on to study painting at the National Academy of Design with Harvey Dinnerstein and Ron Sherr. In 1996, she relocated to Maine and an Artist-in-Residence at Acadia National Park. Since 2002, she has resided full time in Maine where she maintains her studio and teaches there and at workshops in Austin, New York, Italy and France. In 2007 she was awarded the commission to paint the History of Labor in Maine which took a full year to complete. Her work is in many public and private collections.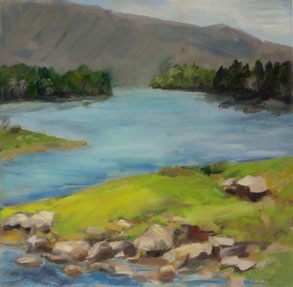 Liz Cutler grew up in Worcester, Massachusetts.  with a passion for creating art.  Worcester alternative High School taught Liz that anything was possible, including classes at Clark University and Worcester Art Museum.
iz had a pushcart in Faneuil Hall in Boston for 8 years, she called "LizArts."  With the birth of her first of three children in 1989, Liz put her "serious "art career on a temporary but extended hold to raise her family.   She  remained involved by working on numerous and various art projects with children.  Liz established one of the largest 4H clubs in Maine based on arts of one type or another.  She has also been teaching art to home-schoolers for the past several years but now that the kids have grown, she has shifted her focus back to her own artwork, and has continued to explore and develop her style.
She enjoys continued support from her family and admits "Maybe it helps that my great aunt Tilly Cutler was an artist, and mother minored in art in college."
Liz attended Antioch College in 1976 and was a student art teacher at East Falmouth Elementary on Cape Cod.  During that time, she was a member of the Falmouth Artists Guild and also attended classes at the Worcester Art Museum, Worcester Craft Center and at the Museum of Fine Arts in Boston.  She recieved her BFA from the Swain School of Design in New Bedford, in 1982 and is currently in Hartwood College of Art's MFA program.
She has been fortunate enough to have studied with Phil Frey, Kat Buchanan, Carol Marine, Michael Chesley Johnson, Connie Hayes, Henry Issacs, Ashley Bryan and is looking forward to a week of boot camp  with Colin Page.
ArtWaves, the studio shared with Katie Churchill hosts figure drawing twice weekly and is open by appointment.